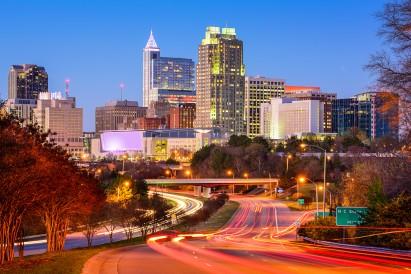 Southeast Raleigh Rental homes and Neighborhood Information
Located just off I-440 and I-40, the Southeast Raleigh community offers a relaxed lifestyle, while being close to the vibrant urban setting of downtown Raleigh. A world-class softball complex and outdoor amphitheater make this community a popular spot for local recreation and entertainment. The community is also close to the WakeMed Raleigh Campus for any medical needs. Modern homes and commercial plazas are abundant in this scenic district that still retains a pastoral ambience.
Occupying just under 80 acres, Coastal Credit Union Music Park at Walnut Creek is one of the top outdoor entertainment venues in Raleigh. Hosting concerts on a seasonal schedule, its enormous amphitheater has enough space for more than 26,000 spectators. Even on a rainy day, more than 6,000 fans can enjoy a show in its covered section. Be sure to also check out the Carolina Country Club, the Red Hat Amphitheater, and the Duke Energy Center for the Performing Arts, and theRaleigh Convention Center, which are all favorites among locals.
Available Homes
Active Life
Arts & Entertainment
Automotive
Beauty & Spas
Education
Event Planning
Financial Services
Food
Health & Medical
Hotels & Travel
Mass Media
Nightlife
Pets
Professional Services
Public Services & Government
Real Estate
Religious Organizations
Restaurants
Area Highlights
You can launch a kayak or canoe on the Neuse River, one of Southeast Raleigh's top natural landmarks, at the Poole Road Park. We also recommend visiting the Sandford Park and the Historic Yates Mill Park. Not too many neighborhoods in Raleigh offer an opportunity to enjoy a downstream ride on the picturesque Neuse River that stretches for hundreds of miles. When you rent a house in the Southeast Raleigh community, you'll have convenient access to the tranquil Neuse Trail that runs along the river.
Featuring nine well-maintained fields with lighting, the Walnut Creek Athletic Complex hosts competitive softball games. Local schools, colleges, and recreational clubs compete at this 204-acre sports center that's owned by the city. The athletic complex is also one of the premier hubs for Little League softball and baseball in Raleigh.