Progress Residential Earns 2023 Great Place To Work Certification™
Scottsdale, AZ — May 22, 2023: Progress Residential, one of the nation's leading providers of property management services for single-family rental homes, announced today it has been Certified™ by Great Place To Work®. The prestigious award is based on what team members say about their experience working at Progress. As part of its survey results, 77% of Progress team members said Progress is a great place To Work, which is 20 points higher than the average U.S. company score of 57%.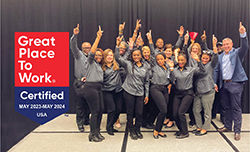 Great Place To Work® is the global authority on workplace culture, employee experience, and the leadership behaviors proven to deliver market-leading revenue, employee retention and increased innovation.
"We are thrilled to become Great Place To Work-CertifiedTM, as our team member experience is a top priority for us every day," said Adolfo Villagomez, Chief Executive Officer of Progress Residential. "Achieving this certification and our continued success is a direct reflection of our passionate, dedicated team members. This recognition is a celebration of our people, who truly make Progress a special place to work and the effort they put in every day to create a great experience for the residents we serve."
"Great Place To Work Certification is a highly coveted achievement that requires consistent and intentional dedication to the overall employee experience," says Sarah Lewis-Kulin, the Vice President of Global Recognition at Great Place To Work. She emphasizes that Certification is the sole official recognition earned by the real-time feedback of employees regarding their company culture. "By successfully earning this recognition, it is evident that Progress Residential stands out as one of the top companies to work for, providing a great workplace environment for its employees."
One of the highlights of the survey outcomes Progress is most proud of are the high scores in areas that reflect its commitment to diversity, equity and inclusion, including: 
89% of team members said they are treated fairly regardless of any personal characteristics (gender, race, sexual orientation, etc.)
91% of team members said Progress hires people from all walks of life
87% of team members said when you join the company you are made to feel welcome
"As we celebrate this exciting milestone and our amazing team members, we are equally excited about the deep insights we were able to gather through the Great Place to Work survey feedback that will allow us to build on the strong cultural foundation we have created," said Brandon Parise, Chief Human Resources Officer for Progress. "Ultimately, we want to harness every opportunity to ensure our team members are seen and heard, and that we focus on ways we can continue to cultivate an environment where our team members can thrive."
According to Great Place To Work research, job seekers are 4.5 times more likely to find a great boss at a Certified great workplace. Additionally, employees at Certified workplaces are 93% more likely to look forward to coming to work, and are twice as likely to be paid fairly, earn a fair share of the company's profits and have a fair chance at promotion.
WE'RE HIRING!
Looking to grow your career at a company that puts its people first? Visit our careers page at: https://jobs.rentprogress.com/jobs
About Progress Residential
Progress Residential is a market leader in intelligent single-family rental management services, with people, technology, scale, and data-driven solutions that streamline operations, optimize asset performance, and provide an exceptional renting and living experience for our residents. Progress Residential's more than 2,500 employees currently manage more than 90,000 homes across 30 markets. Progress Residential also offers third-party property management service for investors with mid-to-large single-family rental home portfolios and Built for Rent communities through its Progress Residential Management Services. For more information, please visit www.rentprogress.com.
About Great Place to Work Certification™
Great Place To Work® Certification™ is the most definitive "employer-of-choice" recognition that companies aspire to achieve. It is the only recognition based entirely on what employees report about their workplace experience – specifically, how consistently they experience a high-trust workplace. Great Place to Work Certification is recognized worldwide by employees and employers alike and is the global benchmark for identifying and recognizing outstanding employee experience. Every year, more than 10,000 companies across 60 countries apply to get Great Place To Work-Certified.
About Great Place To Work®
As the global authority on workplace culture, Great Place To Work® brings 30 years of groundbreaking research and data to help every place become a great place to work for all. Their proprietary platform and For All™ Model helps companies evaluate the experience of every employee, with exemplary workplaces becoming Great Place To Work Certified™ or receiving recognition on a coveted Best Workplaces™ List.
Media Contact:
Nikki Sloup, Vice President, Communications
Progress Residential
press@progressresidential.com