New Resident Orientation & Move In
You found your perfect rental home, you applied, and you've been approved. Here's what you need to know about moving in…
---
---
Moving In
Before you can move in
There are several things that must be completed seven (7) days before your scheduled move-in date.
1. Your lease must be signed by all adults named on the lease.
2. All move-in funds must be paid. Click here for instructions on making your first payment. Information is at the bottom of that page.
3. Identification and income verification processes must be completed. 
4. Complete your Move-in Orientation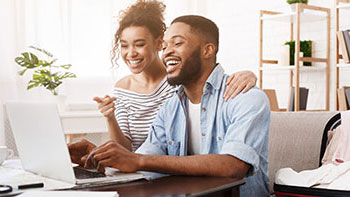 Move-in Orientation
At Progress Residential®, our Move-in Orientation is a convenient and flexible way to give you all the information you need about your home and about leasing a home with us. One of our Resident Relations Specialists will contact you to schedule your orientation. We'll conduct your orientation over the phone or by video chat.
Here's what you need to know about the Move-in Orientation:

It will take approximately 20-30 minutes by phone.
It can only be completed with an adult who is listed on the lease.
Move-in Orientations are available Monday through Friday between 9am and 12:30pm local time.
You'll learn how to make rent payments with Progress Residential®, how to place maintenance requests, and the basics about the home and
      home care.
We'll discuss renter's insurance, HOA, and other pertinent items.
We'll review the move-in inspection, which includes photos of the interior and exterior of your home and answer any questions you may have. If possible, please be prepared to open these documents via email so we can review them together on our call.

Receiving your keys
Once you complete your orientation and you've completed items 1, 2, and 3 listed above, we'll release the lockbox code to you on your lease start date so you may access keys to your home.
Welcome home!
Setting Up Utilities
We've simplified the process of setting up and managing utilities for your Progress Residential® home. We use Conservice, a utility management company, to consolidate your water, sewer, trash, and gas utility charges onto one convenient monthly bill, to make setting up utilities as convenient as possible, and to provide you with dedicated customer service related to your utilities. Visit this page for more information on setting up and managing your utilities.
You will need to set up electricity and your cable/internet service separately. We've teamed up with some of the top providers of cable and internet. Learn more about that here.
Renters Insurance
Renters insurance provides you with piece of mind knowing that your personal belongings are covered in the event of unforeseeable circumstances. We believe its so important, we require that our residents to carry it while they live in our homes. Learn more about renters insurance and our requirements here.
---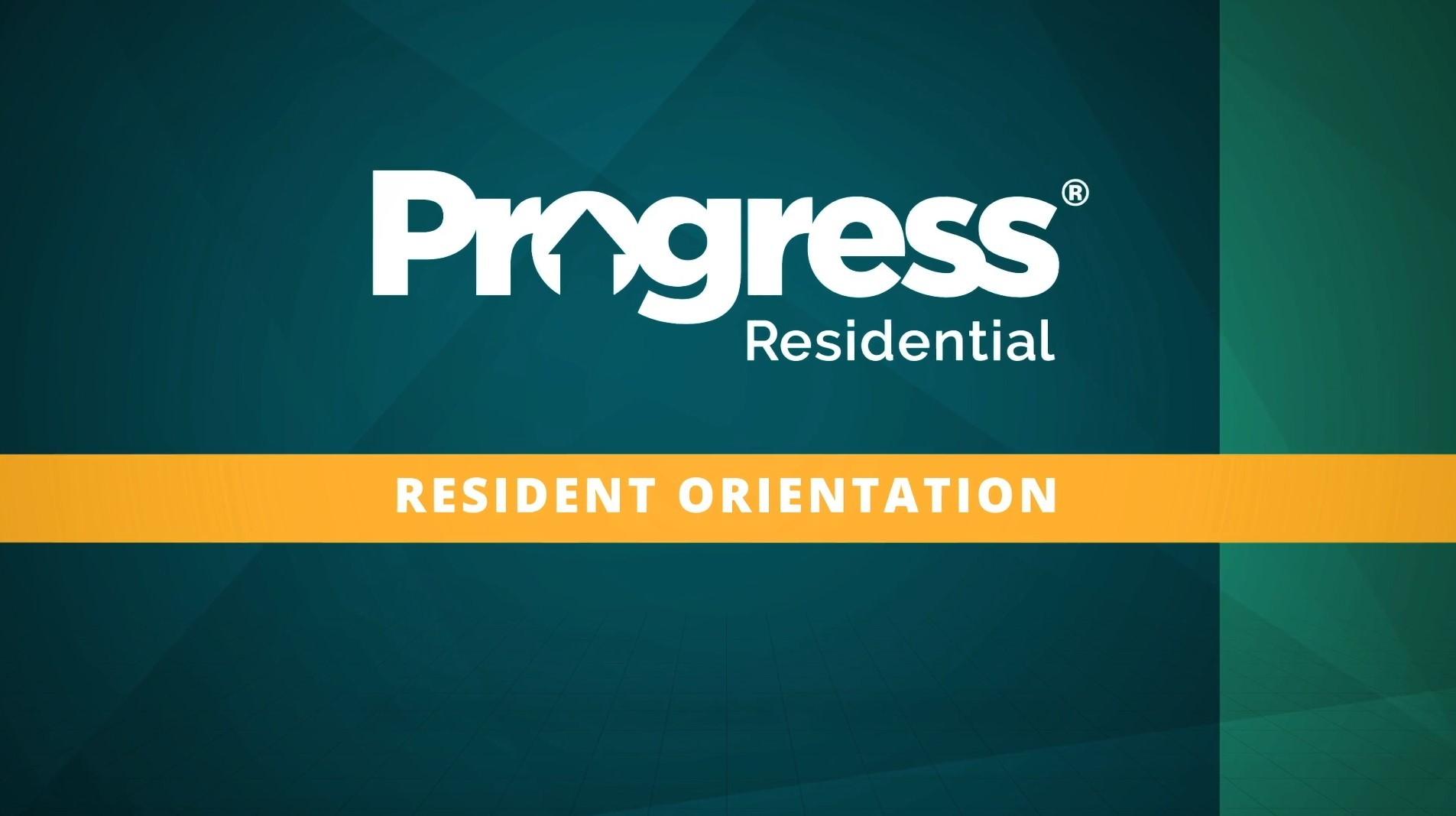 Welcome to the Progress Residential family! In this video, we'll walk you through caring for your home, so you get the most out of your experience while saving time and money.

---
---
What are my move-in costs?
Move-in costs vary depending on the home you choose. In addition to the Application Fee, the Lease Admin Fee, your Security Deposit*, and any other costs must be paid by ACH transfer through our online system. Additionally, you may be subject to monthly Pet Rent, monthly Pool Fees, and utilities. Your Application Coordinator will be able to share these details with you before you move in. All move-in funds (Security Deposit, rent, fees, etc.) must be paid seven (7) days prior to your move-in date. *If you are a new resident who is an active duty member of the U.S. Military, you may be eligible for a discount on your move-in costs. Please ask your Application Coordinator for details."

Why are my move-in costs not showing?
Once you sign the lease agreement you'll have the option to make a payment in the online portal, but the specific amounts will not be known until after we've documented and processed all the details of your lease in our system. You will be sent a cost sheet which will detail your move-in charges. You'll then need to enter in the pro-rated rent and any other fees listed as a "one-time payment" and make your payment from there. Additionally, your security deposit must be paid by ACH transfer using the online system.
What happens if my payment method does not go through due to insufficient funds?
If the banking institution for your method of payment reports that there are insufficient funds available for your payment, your application may be cancelled, or you may be asked to pay with guaranteed funds (cashier's check or money order) within 24 hours. A $40 Insufficient Funds (NSF) Fee applies to any payments denied because of insufficient funds.
What is the move-in orientation?
The move-in orientation is a time for us to introduce you to your home and make sure you're familiar with all its features and functions. Your time is valuable, so we've made our orientation process convenient and filled with important information including, methods of paying rent, how you can submit service requests, must-know items about the home and home care, renter's insurance, HOA, and more. We'll conduct your Move-in Orientation over the phone or by video chat and it must be completed with an adult listed on the lease. It should take between 20 to 30 minutes.
When are Move-in Orientations held?
Move-in Orientations are available Monday through Friday between 9am and 12:30pm local time. Please Note: Move-in Orientations can only be done with an adult who is listed on the lease. Move-in Orientations are scheduled prior to your actual move in day and do not impact your move-in date which may be any day of the week.
How long are Move-in Orientations?
Please allow 20 to 30 minutes for your Orientation call. 
Do I need anything to participate in the Move-in Orientation?
We'll review some documents and photos of the interior and exterior of the home, so, being able to open these documents on our call will be helpful. We also recommend watching our New Resident Orientation video which explains the orientation process.
Do I need renters insurance?
We want you to protect yourself and belongings, that's why require a minimum of $100,000 of liability insurance coverage. Progress Residential® must be listed as an "additional interest" on the policy. Residents who choose not to carry this insurance will be charged a monthly exemption fee of $14.95. All residents must be included on the policy. Proof of coverage may be sent to progress@effectivecoverage.com.  

How do I sign my Lease Agreement?
Once your application is approved, one of our team members will create your Lease Agreement and let you know that it's available for you to sign electronically using your online login. The entire process is completed online using e-signatures.  Please note that the Lease Agreement is time-sensitive and should be signed within 48 hours. If you're unable to access a computer for e-signature, please notify your application coordinator at the time of application so we can figure out how to best accommodate you.
When will I receive keys to the home?
There are a few things you'll need to complete seven (7) days prior to moving into the home. Your lease must be signed by all lease holders, all your move-in funds must be paid, and your identity must be verified through our process. Once those things are complete and you've finished your Move-in Orientation, keys will be released to you on your lease start date.
How does billing for utilities work and what is Conservice?
When you move in, utilities will already be on and in the name of Progress Residential®. You'll be required to move electricity (and any bundled utilities) to your name after you move in. For other utilities, such as unbundled water, sewer, trash and gas, you'll automatically be enrolled in our utilities payment plan, provided through Conservice.
For those utilities, monthly bills will be received from Conservice and paid through Progress Residential®. Conservice requires a monthly service fee of $9.99 and a one-time account enrollment fee of $25.00.  (Residents in North Carolina will be required to move all utilities to their name and will not be enrolled in the Conservice program.)

How do I gain access to my HOA amenities?
We want you to enjoy every HOA amenity that is available to you. To gain access to the amenities in your community, you will need to self-register with your HOA and pay any applicable fees to be granted access. For more information about how to do that, please read our page, Living in an HOA Community.
Where can I find more information on HOAs?
We recommend reading our page, Living in an HOA Community, which is full of helpful information and answers to common questions about HOAs. We also recommend reading your HOA's Covenants, Conditions, and Restrictions (CC&Rs) and visiting your HOAs website which will tell you all the specific guidelines of your HOA.
How do I get copies of my mailbox keys?
Once you have signed your lease agreement, you may go to the local United States Postal Service location for a key.  Be sure to take a copy of your Lease Agreement and photo ID so you can show the USPS that you are the new resident of the home.

Why am I receiving a survey?
Our team is always working to improve, and your feedback is critical in helping us do that. Receiving feedback from you through surveys is the best way for us to identify problems and ways we can get better. We'll be requesting feedback through an email survey at the time of move-in, move-out and after interactions you may have with our team members, so please share your thoughts with us and take the surveys. Your survey responses are confidential and strictly used to help us improve our services.
This is my first time living in a rental home, what can I expect?
If this is your first time renting a single-family home, we think you'll find it to be a great experience. We recommend paying close attention to the Resident Guide and other materials we provide, as maintenance responsibilities and resident rules may be different from what you're used to.
If you've rented homes in the past, these guides will be helpful for you as well since Progress Residential® may do things a little differently than your past property managers. And of course, if you have any questions, please contact us at 833.PRG.RESS (833.774.7377)