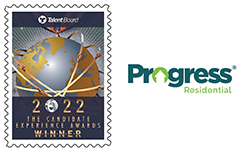 Progress Residential Named Global Candidate Experience Award Winner for Second Year in a Row
Company Recognized for Excellence by the Talent Board in Largest Study of its Kind
SCOTTSDALE, Ariz. – October 12, 2022 – Progress Residential (Progress), a national leader in single-family rental property management, today announced it has been named a 2022 Global Candidate Experience (CandE) Award winner. The CandE Awards reflect satisfaction levels of 200,000 job candidates based on competitive analysis by the Talent Board, a nonprofit research organization.
This is the second consecutive year that Progress has won a CandE Award.
"At Progress we strive for a culture where all people feel seen, heard and respected, and we extend this culture to our candidates as well as our employees," said Brandon Parise, Chief Human Resources Officer for Progress Residential. "We are honored to be named a leader in candidate experience amongst some of the best in the business, and we will work hard to continue to offer an excellent experience for candidates who consider Progress in their job search."
The Talent Board identified Progress and other winners through a comprehensive data analysis based on job candidates' satisfaction survey scores. Winners were selected based on key considerations that included:
The candidates' overall ranking of their candidate experience;
Whether or not they would reapply to the organization in the future;
Whether or not they would refer other job seekers to the organization in the future; and
How the candidates would change their business relationship status with the organization going forward based on their experience.
 
"We are proud to be recognized for a second year in a row by the Talent Board," said Trevor Gelder, Vice President of Talent for Progress Residential. "A core value at Progress Residential is 'Create Community,' and we aim to embody this value in everything we do, starting with optimizing a candidate's enjoyable experience."

About Progress Residential
Progress Residential, Pretium's single-family rental platform, is a market leader in intelligent single-family rental management services, with people, technology, scale, and data-driven solutions that streamline operations, optimize asset performance, and provide an exceptional renting and living experience for our residents. Progress Residential's approximately 2,500 employees currently manage over 80,000 homes across 30 markets. Progress Residential also offers third-party property management services for investors with mid-to-large single-family rental home portfolios and Built for Rent communities through its Progress Residential Management Services. For more information, please visit www.rentprogress.com. 
Media Contact:            
Nikki Sloup
Vice President Communications and PR
press@progressresidential.com