Lease Your Washer and Dryer and Save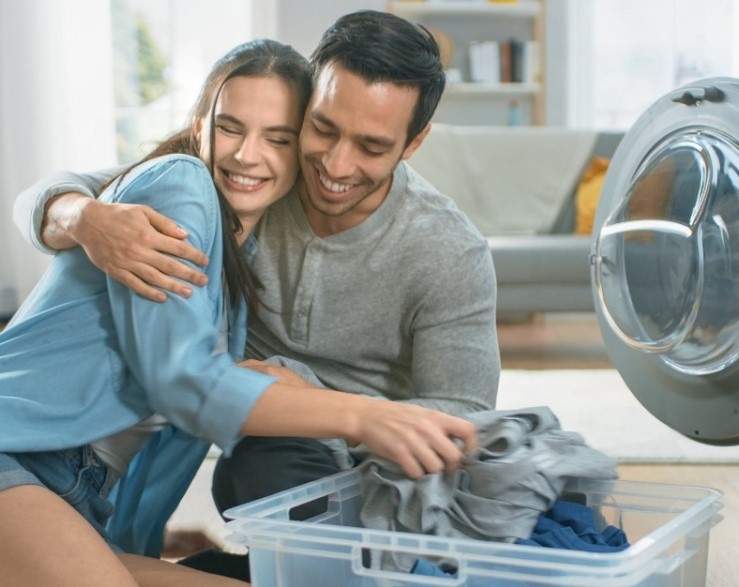 Washers and dryers can be expensive. New sets can easily cost between $700 to $3,800 for full size and high capacity units. That cost may not include delivery and installation fees, maintenance costs, and the costs and headache of managing those units when you move. A great alternative to purchasing your washer and dryer may be to rent them.
---
---
Pricing and Benefits
We've teamed up with Appliance Warehouse to provide our residents with extremely affordable special pricing on washer and dryer rentals, starting at $39.95 a month for a set or $23 a month for a single unit.

When you rent your washer and dryer through Progress Residential and Appliance Warehouse, you'll receive:

In-home delivery and hook up (a one-time $35 delivery and install fee will apply)
Free maintenance and service calls
Pick-up and unit disconnect when you move out of the home
Flexible lease rates and terms
A selection of full-size machines
Single machines available
Special pricing options
 
Take the stress and headache out of managing your washer and dryer.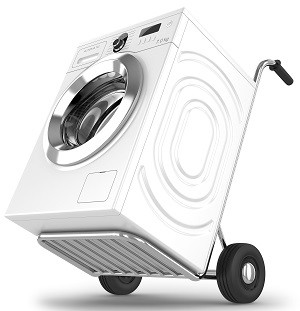 HOW IT WORKS
Once you've been approved to rent a home with Progress Residential and your move-in date has been confirmed, click the link below and follow the steps.
The Appliance Warehouse team will help you select your units and lease options, and schedule delivery and installation.
When you're ready to move out, contact Appliance Warehouse to schedule a time for them to come pick up the unit(s).
You can also download the Appliance Warehouse mobile app and get started there. It couldn't be easier.
Contact Appliance Warehouse:
800.693.4343
Appliancewhse.com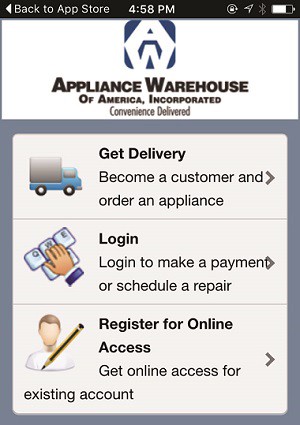 MANAGING YOUR ACCOUNT
Manage your account from anywhere, at anytime with the Appliance Warehouse mobile app (available for iPhone and Android).
The Appliance Warehouse app allows you to:
Order a full-size, side-by-side washer and dryer set

Schedule in-home delivery and hookup

Pay your monthly bill with credit/debit
Request free maintenance or service call
 
Download the app and get started today.

DOWNLOAD THE APP
Download the Appliance warehouse app from either the Apple App Store or Google Play Store. Once finished, open the app and proceed with registration and sign-in.
Caring For Your Washer and Dryer
There are some simple things you can do to make sure that your washer and dryer operate as efficiently as possible and avoid causing issues in the home. Please be sure that you: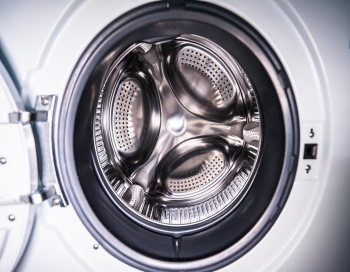 Washer:
For high efficiency units, do not use more than the recommended amount of detergent. Excess detergent can cling to your clothes, prevent them from being fully cleaned, and clog the washer's drains.
Once a month, clean your washer. Wipe down the drum, door, and gasket, and use a washer cleaning tablet or run the "tub clean" cycle of your washer to help clear out residue. This monthly maintenance will help keep the washing machine and your clothes as clean as possible.
Do not overload your washing machine. Oversized loads can damage the machine. Break large loads into smaller loads.
Check the hoses for leaks, cracks, or bulges, and make sure the connections are tight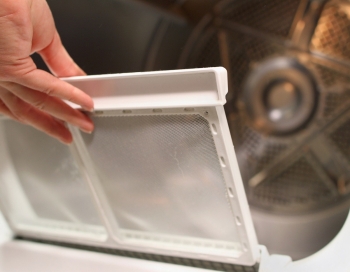 Dryer:
Clean the lint trap between every load.
Wipe down the drum to help remove any dryer sheet residue.
Wash the lint trap with water and soap every three months to remove lint stuck in the screen.
Make sure the ventilation tube is not creased or crimped. Air should be able to flow as easily as possible through the tube
Common Questions
Who should I contact if I'm experiencing issues with the washer or dryer?
For any issues with the appliances, please contact Appliance Warehouse.
The washer and/or dryer are not turning on.
If the washer and dryer are not turning on, please reset the breaker to see if that fixes the issue. If the fuse is operational and it appears to be an issue with the appliance, please contact Appliance Warehouse.
Will I have to install the washer or dryer?
No. Appliance Warehouse will deliver and install the unit(s) you lease.
I need help operating the washer and dryer.
Instructions will be provided. Please contact Appliance Warehouse for advice or instructions about operating your unit(s).
I notice some water leaking from the washer, what should I do?
If you notice a leak, please shut off the water to the washer and do not run it until the issue is resolved. Please inspect the hoses to make sure there are no cracks or leaks from the hose and check the hose connections to make sure they are tightly secured to the outlet and the washer. To report a leak, please contact our customer care team at customercare@rentprogress.com. You will also want to contact Appliance Warehouse who can work to replace any hose connections or repair any issues with the washer.