Our Rental Home Pet Policy
At Progress Residential®, we're pet people. We love pets and we understand that they're part of the family. That's why we're proud to offer some of the doggone friendliest pet policies in the business. 
---
---
Pet-friendly values
We allow most types of domesticated pets. We do not have dog breed restrictions and there's no limit on how many pets you can have, but we do have liability insurance requirements for specific breeds.

Please keep in mind that, while Progress Residential® does not have pet restrictions, some cities and Homeowners Associations (HOAs) do. Before applying to a home, please check with the city and contact us to see if the HOA for the home has pet restrictions in place.
ACCEPTABLE PETS
Dogs (all breeds)
Cats (all breeds)
Caged Birds
Small Caged Animals
Fish
PROHIBITED PETS
Livestock (including Potbellied pigs)
Poisonous, dangerous or exotic animals (like snakes and spiders)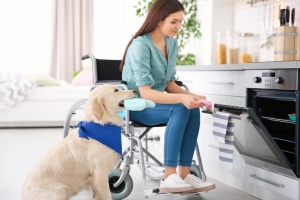 Applicable Fees
A non-refundable Pet Fee in the amount of $300 per un-caged pet will be charged prior to move-in. Additionally, monthly Pet Rent of $35 per month, per un-caged pet, will be added to your rent. Verified service or assistance animals are allowed and are not subject to the Pet Fee or Pet Rent.
Animal Liability Insurance Requirements for Specific Breeds
We understand that certain dog breeds get a bad rap. While we accept all dog breeds in our homes, if your furry family member is a Pitbull (Staffordshire Terrier) or Rottweiler, or mixed with those breeds, you will need to provide proof of supplemental Animal Liability insurance for at least $100,000 in coverage. That coverage can be part of your renter's insurance policy or it can be a separate policy. You will be required to maintain the policy for the duration of the lease or for the length of the pet's time in the home.
Service Dogs and Emotional Support Animals
We welcome verified Service Dogs and Emotional Support Animals into our homes without Pet Fee or Pet Rent. If you're applying for a home with us, you will have an opportunity provide the information during your application process. If you're already a resident and need to register your Service Dog or Emotional Support Animal, please complete the form below. If you're registering a Service Dog, you will be asked to confirm that the dog is required because of a disability, and to identify the work or task the Service Dog is trained to perform. If you're registering an animal that provides emotional support, please provide appropriate supporting documentation that includes an opinion that: 1) the requester has a physical or mental impairment; and 2) that the animal is necessary because it provides therapeutic emotional support to alleviate a symptom or effect of the disability of the requester, and not merely as a pet. Additional information on Service Dogs and Emotional Support Animals is available here.
Add or Remove a Pet
Please use the form below to add any pets to your lease. We want to keep your pets and our team members safe. Should we need to perform any maintenance on the home, completing the form below will make sure that our technicians and service providers are aware that pets are present so they can watch for them and take appropriate precautions.